#MasqueSundays - Cel-Derma Ideal Radiance Hydrogel Mask
Two weeks ago, for #MasqueSundays, I treated myself to the
Cel-Derma Ideal Radiance Hydrogel Mask,
aka the Hayumi Mask. Apparently, this is the #1 selling facemask in Korea. This mask promises to:


Diminish wrinkles


Firms skin/lifting


Recovers skin barriers/pore care


Increase moisturization/nourishment


Whitening/Brightening
What's it like?
This facemask is clear (as opposed to white), and comes in two pieces. The instructions ask you to apply the pack's top section over the center of eyes, and the bottom section over the center of mouth.
When you first open the package and slide of the mask, you are immediately confronted with the slimy and gooey Hydrogel, which this facemask is so known for. The hydrogel is supposed to be temperature-activated and water-soluble. Basically, the heat from your skin allows the hydrogel to, essentially, melt into your skin, and all the beneficial ingredients, too. When you put the mask on, it feels like it is sucked to your face.
Did it work?
I really enjoyed this mask. The clear material the mask is made out of is really cool and innovative. After the application, my face definitely felt cool, moist, and firm after the mask. My skin did look slighting brighter after, too. However, I didn't see any diminishing of wrinkles, although, maybe with increased usage I would. Additionally, I liked how the Hydrogel helps the mask to stay in place, which was a nice change to the usual readjusting I have to do with some masks.
Would I recommend it?
I would recommend this mask to anyone interested in trying in trying a new type of facemask. I would rate this mask a 4/5 because it delivered all that it promised, except, diminished wrinkles.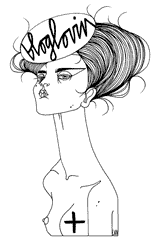 Follow @MsHealthyFace on Bloglovin